The 1997 Fleamarket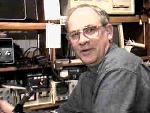 Following a year of organizing, the 1997 Central Ontario Amateur Radio Fleamarket under the leadership of Bill Smith VE3WHS of the Guelph Amateur Radio Club, produced another very successful fleamarket.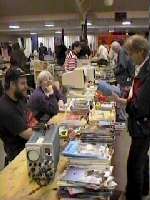 The weatherman had forecast one of the nicest days so far this year...NOT! Heavy rain persisted most of first few hours however it did not daunt the spirits of the attendees as over 1,500 avid bargain hunters browsed this years isles.
The trend of vendors moving away from traditional home brew Amateur Radio parts to computers continued again this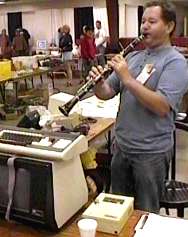 year with an estimate of 50% offering computers and accessories.
Towards the end of the morning, Gerry O'Robko, VE3DYY, was spotted using his clarinet with a pied piper approach to lure one of the remaining prospective buyers to check out his marked down computer terminals.
no word on the success of his efforts
Even with electronic distributors being pressured to reduce costs, the Prize Committee came through with another great series of door prizes.

| | | |
| --- | --- | --- |
| Testing.....1 - 2 - 3.. | And don't you forget it! :-) | MONEY! What money? |